Citi Personal Wealth Management helps you connect today's needs with tomorrow's aspirations.
Whether you're juggling day-to-day finances, planning your child's education or looking ahead to retirement, we can help you map out a financial strategy that's focused on what's most important to you.
You'll work with an experienced Citi Personal Wealth Management Financial Advisor who will help you reach your individual financial goals, while we coordinate with trusted Citibank colleagues in banking and lending to identify ways you can simplify your finances. At Citi Personal Wealth Management, we'll help you put the pieces of your financial future together in a way that makes sense for you.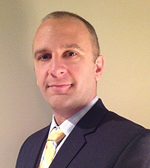 Phone:

1-212-559-7579


Fax:

1-347-537-4271

Address:

399 Park Ave,

New York, NY 10022
PROFILE:
Christopher started his Financial Services career over 12 years ago with Citigroup in New York City. His practice is focused on helping clients with a broad range of investing needs, with particularly emphasis on fixed income and retirement strategies.
As part of his retirement planning focus, Christopher earned the Chartered Retirement Planning Counselor (CRPC®) designation in 2011, which helped him develop a deeper understanding of clients' needs before and during retirement.
Prior to working in Financial Services, Christopher was a restaurant entrepreneur where, as both chef and owner, he gained valuable service and operations experience he brings to his everyday practice. Since moving to Financial Services, Christopher has worked both as a Citibank Branch Manager in New York City as well as a Financial Advisor, which helps him bring a well-rounded understanding of clients' full financial picture.
Christopher's Client Service Associate, Christine Mcanally, also provides support by addressing clients' service needs. Together, they consistently strive to place clients' interests at the heart of their practice.
Christopher lives in Westchester, NY with his wife and their three children. Besides spending time with this family, he is also an avid snowboarder and golfer and has a passion for cooking.