When You Should Put Your Trust in Trusts
From Citi Personal Wealth Management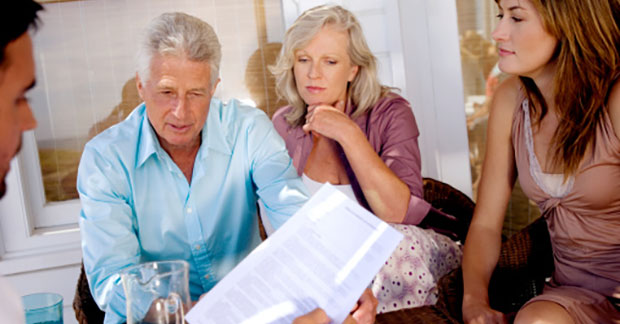 On Wall Street, there are all kinds of status symbols - and they go by names such as venture capital, offshore account and hedge fund. To that list, you might add trusts. The word may conjure up images of old family money, savvy lawyers and trust fund babies. But forget the images - and focus on your financial goals. When used properly, a trust can help to ensure your wishes are carried out and possibly reduce estate taxes.
This article focuses primarily on federal estate taxes and not estate taxes levied at the state level. Moreover, the details can be mighty complicated, which is why it's critical to consult a qualified estate-planning attorney. Still, to give you a sense of the issues involved, consider five relatively common types of trusts.
Living Trusts
Assets placed inside a revocable living trust avoid legal review by the probate court and instead go directly to the named beneficiaries. In some states, going through probate can take considerable time - and mean considerable legal and other costs. In addition, for the rich and famous, probate can mean unwanted publicity. Keep in mind that avoiding probate doesn't mean you avoid estate taxes. Indeed, for a living trust to cut your estate tax bill, it has to be combined with another estate-planning strategy.
For your assets to skip probate, they need to be transferred into a living trust before you die. This can be an especially smart move if you own a second home that's located in a different state from where you have your main residence.
By placing the second home in a living trust, you may sidestep the need for your estate to go through probate in two states. One warning: Even if you set up a living trust, it's still important to have a will to cover those assets that are outside the living trust at the time of your death. This is often referred to as a pour-over will.
Life Insurance Trusts
If you die and there's insurance on your life, the proceeds usually aren't subject to income taxes. The payout, however, could be hit with estate taxes if you are listed as the policy's owner.
To ensure the policy's proceeds aren't subject to federal estate taxes, you might arrange for the policy to be owned by an irrevocable life insurance trust. If you transfer an existing policy to a life insurance trust, the policy's proceeds could still be subject to federal estate taxes if you die within three years.
Bypass Trusts
If your spouse is a U.S. citizen, you can bequeath an unlimited sum to him or her, with no federal estate taxes owed. This is known as the marital deduction.
If you have substantial assets, however, leaving everything to your spouse may be a mistake, because there could be an unnecessarily large estate tax bill when your spouse dies. The reason: By leaving everything to your spouse, you might fail to take advantage of your federal estate tax exemption, unless you select portability. This is the amount you can bequeath to your other heirs without paying federal estate taxes. For 2017, the federal exemption is $5.49 million for individuals and $10.98 million for couples.
Even if you fail to make use of your exemption, the loss can be partly undone, because your surviving spouse can make use of your unused exemption when he or she dies. Problem is, even if your spouse does so, any growth of the assets will occur within your surviving spouse's estate — potentially creating a large estate tax bill when he or she dies. You also lose control over who ultimately inherits the assets involved.
What to do? You could arrange for $5.49 million to flow into a bypass trust upon your death, thus making use of your federal estate tax exemption. This money might be earmarked for future generations, but with your spouse still able to draw income from the assets and possibly able to spend part of the principal each year. While bypass trusts are especially popular with married couples, they can also be used by unmarried couples.
QTIP Trusts
Like a bypass trust, a Qualified Terminable Interest Property (QTIP) trust can provide income to your surviving spouse, while allowing you to name the final beneficiaries of the money. In fact, a QTIP trust is often used in conjunction with a bypass trust.
While the bypass trust makes use of the federal estate tax exemption, the QTIP trust takes advantage of the unlimited marital deduction. That means that any federal estate taxes owed on the money in the QTIP trust can be deferred until after the second spouse dies.
True, you could also defer estate taxes by simply leaving money outright to your spouse. That, too, would take advantage of the unlimited marital deduction. But with the QTIP, you can specify the trust's ultimate beneficiaries. This can be important if, say, you are remarried and you want to make sure your money eventually passes to the children from an earlier marriage.
Testamentary Trusts
This is a trust that is established upon your death. For instance, bypass trusts are a common type of testamentary trust. But unlike bypass trusts, other testamentary trusts are not necessarily focused on cutting taxes.
Instead, they are primarily designed to ensure your wishes are carried out. Suppose you have young children. If your kids are under, say, age 25 at the time of your death, your will might specify that their inheritance should flow into a trust, with the money paid out slowly over time, rather than as a lump sum.
While trusts are often viewed as a vehicle for cutting estate taxes, they can sometimes end up triggering hefty income tax bills. If a trust retains income rather than disbursing it, a special tax schedule may apply.
Citi Personal Wealth Management is committed to your long-term financial success. You can expect professional guidance tailored to your needs, convenient access to Citi's global resources, and a broad range of diverse investment products. For more information, please contact your Citi Personal Wealth Management Financial Advisor.
This Communication is prepared by Citi Private Bank (CPB), a business of Citigroup, Citi). Not all products and services are provided by all affiliates or are available at all locations. CPB personnel are not research analysts, and the information in this Communication is not intended to constitute research, as that term is defined by applicable regulations.

to footnote reference 1

, which provides its clients access to a broad array of products and services available throughout Citigroup, its bank and non-bank affiliates worldwide (collectively,
The information provided here is solely for informational purposes. It is not an offer to buy or sell any of the securities, insurance products, investments, or other products named.
Citigroup Inc. and its affiliates do not provide tax or legal advice. To the extent that this material or any attachment concerns tax matters, it is not intended to be used and cannot be used by a taxpayer for the purpose of avoiding penalties that may be imposed by law. Any such taxpayer should seek advice based on the taxpayer's particular circumstances from an independent tax advisor.
There is no guarantee that these strategies will succeed. The strategies do not necessarily represent the experience of other clients, nor do they indicate future performance. Investment results may vary. The investment strategies presented are not appropriate for every investor.
Past performance is no guarantee of future results.
The information set forth was obtained from sources believed to be reliable, but we do not guarantee its accuracy or completeness.
©
Citigroup Citi Personal Wealth Management is a business of Citigroup , which offers investment products through Citigroup Global Markets ("CGMI"),
member SIPC
Insurance is offered through Citigroup Life Agency LLC ("CLA"). In California, CLA does business as Citigroup Life Insurance Agency, LLC (license number 0G56746). CGMI, CLA and Citibank, are affiliated companies under the common control of Citigroup Citi, Citi and Arc Design and other marks used herein are service marks of Citigroup or its affiliates, used and registered throughout the world.