Surviving a Layoff: How to Meet the Financial Challenges
Citi Personal Wealth Management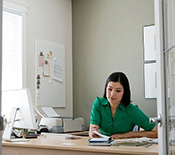 Losing your job can be one of life's most traumatic events.
As you hunt for work, how can you limit the financial damage—and work toward staying on track for longer-term goals? Consider these strategies:
Cut costs. Move quickly to get a handle on your expenses. Grab your checkbook and recent credit card statements. Figure out how much you spend every month on essentials like food, utilities and housing, and how much on discretionary expenses such as entertainment, outside meals and gifts. Make the hard decisions about which expenses you can reduce or eliminate. You might, for instance, get a more limited cell phone plan and cancel the cable TV or opt for a more basic plan.
Manage your severance. If your employer gives you a severance package, that can be an important financial bridge. Your Citi Personal Wealth Management Financial Advisor can walk you through some of the choices for using this money, such as paying down debt or putting it in a higher-yielding savings account.
Reduce debt. If you suspect you might be laid off in the months ahead, aim to pay off credit card balances. If you later find you need the money, you can always draw on your cards' credit lines again. Also, if you leave your employer without paying any 401(k) loans, the sums involved may be considered a distribution and could be subject to taxes and significant penalties.

If your finances are really tight, think twice before paying down other debts, such as auto or student loans. It may be smarter to stick with the minimum debt payments and conserve your cash for other expenses.
Apply for unemployment benefits. You may be reluctant to apply, particularly if you see them as a "handout." But remember: Your employer pays a tax to the state unemployment fund for just this purpose. The size of your unemployment benefit will depend on the state where you live and your salary. If you get a severance package equal to, say, two months' salary, your benefits won't start until the end of that period, but you can apply as soon as you leave your job.
Check health insurance options. You may be able to continue your employer's health coverage under the Consolidated Omnibus Budget Reconciliation Act of 1985, or COBRA. If you are eligible, your employer should give you a COBRA notice, giving you 60 days to decide whether you want the coverage. This insurance isn't cheap: The cost is generally up to 102% of the premium that your employer pays. You can keep the coverage for up to 18 months for you and your family, including coverage for pre-existing conditions.

You also might be able to buy health insurance on your own or through a trade association. Your eligibility for coverage and premiums may depend on your health and that of your family.
Options for your employer retirement plan. Keep in mind: When leaving an employer, you typically have four options and may engage in a combination of them:


Leave the money in the former employer's plan, if permitted;
Roll over the assets to a new employer's plan, if one is available and rollovers are permitted;
Roll over to an IRA (traditional or Roth); or
Cash out the account value.
In many cases, you don't have to act immediately upon switching jobs or retiring. The decision to transfer funds out of an employer's plan is irrevocable. Before making a decision, take time to assess factors such as your age, financial needs, personal situation, fees and expenses, investment options and services.
This Communication is prepared by Citi Private Bank (CPB), a business of Citigroup, Citi). Not all products and services are provided by all affiliates or are available at all locations. CPB personnel are not research analysts, and the information in this Communication is not intended to constitute research, as that term is defined by applicable regulations.

to footnote reference 1

, which provides its clients access to a broad array of products and services available throughout Citigroup, its bank and non-bank affiliates worldwide (collectively,
Citigroup Inc., and its affiliates do not provide tax or legal advice. To the extent that this material or any attachment concerns tax matters, it is not intended to be used and cannot be used by a taxpayer for the purpose of avoiding penalties that may be imposed by law. Any such taxpayer should seek advice based on the taxpayer's particular circumstances from an independent tax advisor.
The information provided here is for informational purposes only. It is not an offer to buy or sell any of the securities, insurance products, investments or other products named.
Terms, conditions and fees of accounts, products, programs and services are subject to change.
There is no guarantee that these strategies will succeed. Individual clients should review with their Financial Advisors the terms and conditions and risks involved with specific products or services.
Since life and health insurance are medically underwritten, you should not cancel your current policy until your new policy is in force. A change to your current policy may incur charges, fees and costs. A new policy will require a medical exam. Surrender charges may be imposed, and the period of time for which the surrender charges apply may increase with a new policy. You should consult with your own tax advisors regarding your potential tax liability on surrenders.
© Citigroup Inc. Citi Personal Wealth Management is a business of Citigroup Inc., which offers investment products through Citigroup Global Markets Inc. (CGMI), member SIPC . Insurance products offered through Citigroup Life Agency LLC (CLA). In California, CLA does business as Citigroup Life Insurance Agency, LLC (license number 0G56746). Citibank, N.A., CGMI and CLA are affiliated companies under the common control of Citigroup Inc. Citi, Citi and Arc Design and other marks used herein are service marks of Citigroup Inc. or its affiliates, used and registered throughout the world. 3/17