Financially Preparing for a Baby: Diapers, Life Insurance and 529 Plans
Citi Personal Wealth Management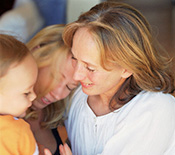 A baby can bring joy, wonder—and a hefty hit to your finances. According to U.S. Department of Agriculture figures for 2015, annual costs for raising a child through age 17 averaged $25,108 nationwide for a married couple with a before-tax income of more than $107,400. As you prepare for your baby, consider the expenses you may face. There are the health-care costs not covered by insurance. You might need a larger home and more life insurance, and you may want to start a college fund. And, of course, there's baby food, bottles, clothing, diapers, toys, a crib, a changing table, a car seat and a stroller.
Consider taking the following steps before and after the baby arrives to make the financial side of parenting a little easier:
Start saving for a baby. Try to get a head start by putting some money aside. If you're both working and one parent is planning to stay home indefinitely after the baby arrives, you might practice living on one paycheck and using the other paycheck to boost your savings.
Estimate expenses. Jot down all the one-time and recurring expenses that you will face, and then figure out whether these are manageable—or whether you need to trim or eliminate some costs.
Look into company benefits. Many companies have a range of benefits that can help cover pregnancy, childbirth and parental leave. While employers may be required to give you time off under the Family Medical Leave Act, they aren't required to pay you during that time. If they do pay, the percentage of salary—as well as the length of time this pay continues — can vary from employer to employer. Find out how much it might cost to add a new child to your employer's group medical coverage. If your employer offers a pretax health savings account, consider funding an account or upping your existing contribution.
Check your life and disability insurance. Even if you have life insurance, it may not be enough to provide for your now-growing family. You may want coverage equal to five times your annual salary and possibly more. The exact amount will depend on factors such as your income, your current level of savings, and how much mortgage and other debt you have. You may also want insurance on the life of a nonworking spouse, since his or her death would likely mean significant expenses for child care and other costs. In addition, consider disability insurance to replace some income in case you are injured and can't work for an extended period. Your employer may provide short-term disability coverage at little or no cost. These plans typically cover 60% of your salary, and you may be able to extend that coverage by paying an added premium. You might also consider buying a supplemental policy on your own.
Start a college fund. If, after all your other added expenses, you can afford to put something aside each month for your new child's college education, consider a tax-advantaged account like a Coverdell Education Savings Account or a 529 college-savings plan. If grandparents or other relatives want to help, you might suggest they establish their own account for the child's benefit or contribute to the 529 plan account you set up.
Evaluate your retirement planning. While a decent-size college fund can be a great help when your baby turns into a college-bound teenager, keep in mind that you may also be able to pay college costs with loans and grants. Until then, you will still have daily and long-term financial goals to consider. This may be a good time to evaluate how these expenses may impact your retirement funding goals. Your Financial Advisor can assist you in understanding and evaluating strategies available to fund college expenses and the impact they may have on your retirement planning.
Name a legal guardian.You probably had a will even before you had a baby—but now it's essential. Both parents need wills that name a legal guardian in case you both die prematurely. Your will should also specify that money bequeathed to the baby should go into a trust. You may want to name one person to take care of your child and someone else who is better with money to handle the finances.
This Communication is prepared by Citi Private Bank (CPB), a business of Citigroup, Citi). Not all products and services are provided by all affiliates or are available at all locations. CPB personnel are not research analysts, and the information in this Communication is not intended to constitute research, as that term is defined by applicable regulations.

to footnote reference 1

, which provides its clients access to a broad array of products and services available throughout Citigroup, its bank and non-bank affiliates worldwide (collectively,
The information provided here is for informational purposes only. It is not an offer to buy or sell any of the securities, insurance products, investments or other products named.
This material is derived from sources believed to be reliable, but its accuracy and the opinions based thereon are not guaranteed.
Citigroup Inc., and its affiliates do not provide tax or legal advice. To the extent that this material or any attachment concerns tax matters, it is not intended to be used and cannot be used by a taxpayer for the purpose of avoiding penalties that may be imposed by law. Any such taxpayer should seek advice based on the taxpayer's particular circumstances from an independent tax advisor.
Since life insurance and disability insurance are medically underwritten, you should not cancel your current policy until your new policy is in force. A change to your current policy may incur charges, fees and costs. A new policy may require a medical exam. Your actual premiums may vary from any initial quotation you receive. Surrender charges may be imposed, and the period of time for which the surrender charges apply may increase with a new policy. You should consult with your own tax advisors regarding your potential tax liability on surrenders.
You should consider the investment objectives, risks, charges and expenses of any 529 Plan Investment Options carefully before investing. This and other information is contained in the 529 Plan Disclosure Document and official statement, which should be read carefully. Before investing, you should read the Plan Disclosure Statement carefully and consider whether your state of residency—or your intended Designated Beneficiary's state of residency—offers any benefit, such as a state tax deduction, which is only available for investments in that state's 529 savings program.
© Citigroup Inc. Citi Personal Wealth Management is a business of Citigroup Inc., which offers investment products through Citigroup Global Markets Inc. (CGMI), member SIPC . Insurance products are offered through Citigroup Life Agency LLC (CLA). In California, CLA does business as Citigroup Life Insurance Agency, LLC (license number 0G56746). Citibank, N.A., CGMI and CLA are affiliated companies under the common control of Citigroup Inc. Citi, Citi and Arc Design and other marks used herein are service marks of Citigroup Inc. or its affiliates, used and registered throughout the world. 3/17