Bequeathing an IRA: What Owners and Beneficiaries Need to Know
From Citi Personal Wealth Management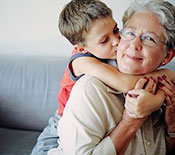 Individual Retirement Accounts (IRAs) are a common way to save for retirement. They can also be part of a legacy you leave for your loved ones.
But be warned: Bequeathing an IRA can be fairly complicated. If the original owner and the beneficiaries don't follow the rules carefully, the tax advantages could get squandered and you may unleash a large tax bill all at once. Indeed, this is one occasion when a little help from an estate-planning attorney or tax professional could prove invaluable.
Original owners
If you have an IRA, you probably listed one or more beneficiaries. Even if you're married and name your spouse as beneficiary, it's generally a good practice to name a secondary, or contingent, beneficiary in case your spouse dies first.
If you don't name any beneficiaries, your IRA can become part of your overall estate and will likely go through probate. That can be time-consuming and expensive, depending on which state you live in and whether you have a will. Moreover, if your IRA is probated along with the rest of your estate, it may have to be liquidated in as little as five years, possibly triggering a big tax bill. Remember, even after your death, income taxes still have to be paid on withdrawals from your traditional IRA.
With a view to bequeathing their IRA and getting rid of the embedded income-tax bill, some folks convert their Traditional IRA to a Roth IRA. Income taxes will be owed on the taxable sum converted. But once the money is in a Roth, it can grow tax-deferred thereafter, and qualified withdrawals are tax free. A qualified withdrawal is generally a distribution made after a five-year taxable period of participation and is either made on or after the date you attain age 59½, made after your death, or attributable to your being disabled.
In effect, by converting, you are prepaying income taxes on behalf of your beneficiaries—and you're doing so without using your annual gift-tax exemption. In addition, the income-tax bill you pay reduces the size of your taxable estate, potentially trimming the eventual hit from state and federal estate taxes.
Unlike a Traditional IRA, Roth IRAs aren't subject to the rules that require minimum annual distributions starting in the year after you turn age 70½. That means that, as the original owner, you can keep the Roth intact for your beneficiaries.
Beneficiaries
What happens if you inherit a Traditional or Roth IRA?
Surviving Spouse. If you are the surviving spouse, you may have the option to delay withdrawals from a Traditional IRA to a later date by transferring the account to your name. If you aren't yet 70½, the money can stay in your account until you are required to take minimum distributions. Meanwhile, if you inherit a Roth IRA from your spouse, you have the option not to take withdrawals during your lifetime.
Nonspouse Beneficiaries. The rules are more complicated for nonspouse beneficiaries, such as children and grandchildren. Whether it's a Traditional or Roth IRA, you have to start taking distributions by December 31 of the year after inheriting. But you can choose to receive the money gradually using a distribution schedule based on your life expectancy. This is known as the stretch IRA and it can extend the period of tax-deferred or tax-free growth, possibly for many decades and over several generations. For the stretch IRA to work, you have to follow the tax rules carefully.
Please make sure you consult with a tax advisor and financial advisor before taking any action on an IRA, including any retitling.
This Communication is prepared by Citi Private Bank (CPB), a business of Citigroup, Citi). Not all products and services are provided by all affiliates or are available at all locations. CPB personnel are not research analysts, and the information in this Communication is not intended to constitute research, as that term is defined by applicable regulations.

to footnote reference 1

, which provides its clients access to a broad array of products and services available throughout Citigroup, its bank and non-bank affiliates worldwide (collectively,
The information provided here is for informational purposes only. It is not an offer to buy or sell any of the investment products, insurance products, or other products named.
Past performance is not a guarantee of future results.
Citigroup Inc. and its affiliates do not provide tax or legal advice. To the extent that this material or any attachment concerns tax matters, it is not intended to be used and cannot be used by a taxpayer for the purpose of avoiding penalties that may be imposed by law. Any such taxpayer should seek advice based on the taxpayer's particular circumstances from an independent tax advisor.
© Citigroup Inc. Citi Personal Wealth Management is a business of Citigroup Inc., which offers investment products through Citigroup Global Markets Inc. (CGMI), member SIPC. Insurance products are offered through Citigroup Life Agency LLC (CLA). In California, CLA does business as Citigroup Life Insurance Agency, LLC (license number 0G56746). CGMI, CLA and Citibank, N.A., are affiliated companies under the common control of Citigroup Inc. Citi, Citi and Arc Design and other marks used herein are service marks of Citigroup Inc. or its affiliates, used and registered throughout the world. 3/17