Investing Basics: Taking on Risk—In the Hope of Earning Higher Returns
Citi Personal Wealth Management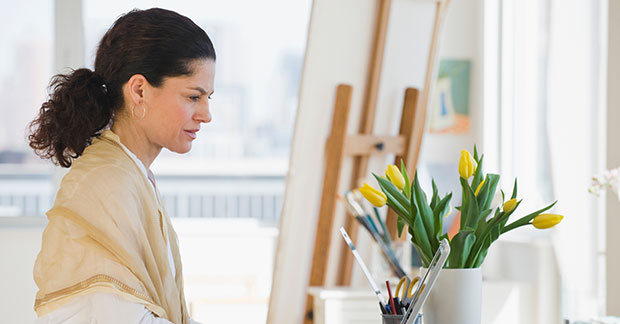 Many of us start out as savers, favoring bank products such as savings accounts and certificates of deposit, where we shouldn't ever lose money. But eventually, we will likely cross the line into the world of investing, where there's the potential for higher returns, but also the risk that we could lose money. Whenever you take that first step, make sure you thoroughly understand what you're buying—because investing basics can be more complicated and significantly more nerve-racking.
Basics of Investing in Bonds
When you put money in a CD or a savings account, you're lending money and, in return, you earn interest. As an investor, you can also lend money in return for regular interest by purchasing bonds. But unlike with a CD or a savings account, there's a danger the value of your bonds could fall below the price you paid.
In issuing bonds, a corporation or government entity will commit to making interest payments for a certain number of years, before returning the bond's principal value. Let's say you buy a $1,000 ten-year bond at par value on the day it is issued and it has a 5% yield. You should receive $50 a year until you get your $1,000 back a decade later, when the bond matures and the principal value is returned to investors.
In reality, bond investing is often more complicated than this simple example suggests. For instance, you might buy the same $1,000 par value bond after it's been trading for three years and it is now priced at $1,070. You will still get the $50 a year in interest, but the current yield will be just 4.67% and, at maturity, you will get back $70 less than the price you paid.
This highlights an important fact about investing in bonds: When their price goes up, their yield goes down, and vice versa. It's important to keep that in mind, especially at a time of rising interest rates. Those higher rates can drive down the price of your bonds, especially bonds maturing in ten years or more. You also need to pay careful attention to credit quality, because bond issuers with a lower credit quality may have a higher probability of defaulting on their interest payments, and to call features, which allow an issuer to redeem bonds before maturity.
Investing in Stocks - 101
While bonds involve lending money, investing in stocks give you the chance to become an owner. That means higher potential returns, but also greater risk. When you purchase shares of a company, you buy a piece—albeit a very small piece—of that company. You can potentially benefit from its success through a higher share price and possibly regular dividends. But you could also lose money if the company gets into financial difficulty or doesn't perform as well as investors expect.
Because it's extremely risky to bet heavily on any one stock, investors tend to buy a slew of different companies, either directly or through mutual funds. This diversification won't stop you from losing money, but it can help reduce the swings in your stock portfolio's overall value, as some shares may hold up well when others are suffering.
How should you diversify? Stocks come in two basic styles: growth and value. Growth stocks can appear expensive, based on yardsticks like their share price-to-earnings ratio, but investors may be willing to pay that high price because they expect rapid revenue and earnings growth. Meanwhile, value stocks get that label because some investors believe their share price doesn't fully reflect the company's current fundamentals.
Growth and value stocks will often shine at different times, which is why you might want to consider holding both in your portfolio. For the same reason, investors will diversify by size, endeavoring to own a mix of large, midsize and small-company stocks, and also by industry sector. For instance, health-care companies and makers of consumer staples (think cleaning products, breakfast cereal and tobacco) may enjoy better stock-market performance toward the beginning of an economic downturn, while consumer discretionary companies (think auto makers, hotels and restaurants) may outperform at the start of a recovery.
Finally, investors might add foreign shares to their portfolio. The diversification that foreign stocks offer is due, in part, to the fact that foreign stocks don't necessarily move up and down in lockstep with U.S. shares. But it's also due to currency swings. When the U.S. economy and stock market are having a rough time, the dollar might fall in the foreign-exchange market—and that would likely bolster the value of your foreign stocks.
Next Steps - Creating a Portfolio
So should you invest in stocks or bonds? Investors are often encouraged to hold both because, as with different parts of the stock market, these two key financial assets don't always move up and down in tandem.
Bonds tend to fare better when the economy is slowing, because interest rates often decline, pushing up bond prices. Conversely, they can get hurt during economic expansions, as inflation picks up and the demand for borrowed money drives up interest rates. Meanwhile, stocks often follow the opposite pattern, declining when the economy is slowing and rising when overall economic growth is strong.
Because markets are so unpredictable, some folks diversify even further, adding alternative investments such as commodities, real estate, gold and hedge funds to their portfolio. Alternative investments tend to perform differently from stocks and bonds and they are often viewed as "sophisticated" investments, which can add to their appeal for some folks.
But keep three caveats in mind. First, while a small stake in, say, commodities or gold may diversify a portfolio, because they may rise and fall in a different pattern from other investments, they are—by themselves—notably volatile. Second, even though they are lumped together in the same category, the various alternative investments can perform quite differently from each other. Third, they can be complex investments and they won't be suitable for all investors.
This Communication is prepared by Citi Private Bank (CPB), a business of Citigroup, Citi). Not all products and services are provided by all affiliates or are available at all locations. CPB personnel are not research analysts, and the information in this Communication is not intended to constitute research, as that term is defined by applicable regulations.

to footnote reference 1

, which provides its clients access to a broad array of products and services available throughout Citigroup, its bank and non-bank affiliates worldwide (collectively,
Past performance is no guarantee of future results.
The information provided is solely for informational purposes. It is not an offer to buy or sell any of the securities, insurance products, investments, or other products named.
There is no guarantee that these strategies will succeed. This information is intended to illustrate available products and services. The strategies do not necessarily represent the experience of other clients, nor do they indicate future performance. Investment results may vary. The investment strategies presented are not appropriate for every investor. Individual clients should review with their Financial Advisors the terms and conditions and risks involved with specific products or services.
Remember, when investing in mutual funds or exchange traded funds, please consider the investment objectives, risks, charges, and expenses associated with the funds before investing. You may obtain the appropriate funds prospectus by contacting a Financial Advisor. The prospectus contains this and other information, which should be carefully read before investing.
Diversification and asset allocation do not protect against loss or guarantee a profit.
Bonds are affected by a number of risks, including fluctuations in interest rates, credit risk and prepayment risk. In general, as prevailing interest rates rise, fixed income securities prices will fall. Bonds face credit risk if a decline in an issuer's credit rating, or creditworthiness, causes a bond's price to decline. High yield bonds are subject to additional risks such as increased risk of default and greater volatility because of the lower credit quality of the issues. Finally, bonds can be subject to prepayment risk. When interest rates fall, an issuer may choose to borrow money at a lower interest rate, while paying off its previously issued bonds. As a consequence, underlying bonds will lose the interest payments from the investment and will be forced to reinvest in a market where prevailing interest rates are lower than when the initial investment was made.
Small cap stocks carry greater risk than investments in larger, more established companies.
There may be additional risk associated with international investing, including foreign, economic, political, monetary and/or legal factors, changing currency exchange rates, foreign taxes, and differences in financial and accounting standards. These risks may be magnified in emerging markets. International investing may not be for everyone.
As further described in the offering documents, an investment in alternative investments can be highly illiquid, are speculative and not suitable for all investors. Investing in alternative investments is for experienced and sophisticated investors who are willing to bear the high economic risks associated with such an investment. Investors should carefully review and consider potential risks before investing. Certain of these risks may include:
Loss of all or a substantial portion of the investment due to leveraging, short-selling, or other speculative practices;
Lack of liquidity in that there may be no secondary market for the fund and none is expected to develop;
Volatility of returns;
Restrictions on transferring interests in the Fund;
Potential lack of diversification and resulting higher risk due to concentration of trading authority when a single advisor is utilized;
Absence of information regarding valuations and pricing;
Complex tax structures and delays in tax reporting;
Less regulation and higher fees than mutual funds; and
Manager risk.
Individual funds will have specific risks related to their investment programs that will vary from fund to fund.
© Citigroup Inc. Citi Personal Wealth Management is a business of Citigroup Inc., which offers investment products through Citigroup Global Markets Inc. (CGMI), member SIPC . Insurance products are offered through Citigroup Life Agency LLC (CLA). In California, CLA does business as Citigroup Life Insurance Agency, LLC (license number 0G56746). Citibank, N.A., CGMI and CLA are affiliated companies under the common control of Citigroup Inc. Citi, Citi and Arc Design and other marks used herein are service marks of Citigroup Inc. or its affiliates, used and registered throughout the world. 3/17