Lending a Hand: Using Education Loans to Help Fill the College Funding Gap
Citi Personal Wealth Management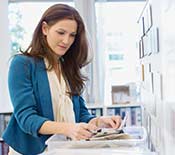 If your child is offered an aid package by a college that includes loans, think carefully about whether repaying those loans will create an excessive financial strain for you or your child, depending on who will do the borrowing. To help you get started, here's a brief overview of the two broad categories of college loans: subsidized and unsubsidized.
Subsidized loans
Subsidized loans are given to families that can demonstrate financial need. To prove that need, you need to fill out the FAFSA form, or Free Application for Federal Student Aid. That application may also help you qualify for other types of financial aid, such as grants and on?campus student work.
If you are offered subsidized loans, those are the first loans your family should take advantage of. They generally have lower interest rates than other college loans, students don't have to make principal payments until they leave school and the government pays the interest while students are in college, making the loans less expensive. There are two key types of subsidized loans.
Perkins loans. These federal loans are given to students who have the greatest financial need. Undergraduates can borrow as much as $5,500 a year, up to a maximum of $27,500, at a 5% interest rate.
Subsidized Stafford loans. These government-sponsored loans also charge a relatively low interest rate. Students can borrow up to $3,500 their freshman year. That limit increases as they go through school.
For more information on the FAFSA, subsidized loans and financial aid generally, head to www.finaid.org.
Unsubsidized loans
Need help paying for college, but your family doesn't qualify for subsidized loans? Here are some alternatives.
Unsubsidized Stafford loans. These loans are also government?sponsored, but students incur interest charges during their time at school. While attending college, those interest charges can be added to the principal owed, though that will increase the loan's total cost.

Undergraduates can borrow up to $5,500 for their freshman year, minus any subsidized Stafford loan. The loan limit increases each year that a student is in school, though the student doesn't have to borrow the full amount. First- and second-year independent students or those whose parents don't qualify for PLUS loans may be able to borrow an additional $4,000, while third- and fourth-year students may be able to borrow an additional $5,000.
PLUS loans. These are obtained by a parent or guardian, who is subject to a credit check and is responsible for the loan's repayment. If parents qualify, they can borrow the full cost of college minus any federal aid.
For the 2016?2017 academic year, the interest rate was fixed at 6.31% and the interest could be tax?deductible. You may be able to deduct interest on qualifying education loans.
Private student loans. A number of institutions provide private loans to students and parents. Colleges, for example, may have their own pools of money that they can lend, and the interest rates may be lower than those on federal loan programs.
Several private organizations and foundations also offer private student loans with favorable terms. There are a number of ways to qualify, including living in a particular state, having a religious or ethnic affiliation, or being the child of an active or retired member of the military.
In addition, many banks and other financial institutions have college loan programs, which can help families make up the difference if federal and other private loan sources fall short. Depending on the bank, you may be able to take up to 15 years to repay undergraduate loans and even longer for graduate loans. If you experience a financial hardship, you might be able to postpone payment with a deferment or forbearance.
This Communication is prepared by Citi Private Bank (CPB), a business of Citigroup, Citi). Not all products and services are provided by all affiliates or are available at all locations. CPB personnel are not research analysts, and the information in this Communication is not intended to constitute research, as that term is defined by applicable regulations.

to footnote reference 1

, which provides its clients access to a broad array of products and services available throughout Citigroup, its bank and non-bank affiliates worldwide (collectively,
The information provided here is for informational purposes only. It is not an offer to buy or sell any of the securities, insurance products, investments, or other products named.
Please note that by clicking on this URL(s) or hyperlink(s) referenced in this material you will leave this site and enter another website created, operated and maintained by a different entity.
The information set forth was obtained from sources believed to be reliable, but we do not guarantee its accuracy or completeness.
There is no guarantee that these strategies will succeed. The strategies do not necessarily represent the experience of other clients, nor do they indicate future performance. Past performance is no guarantee of future results.
Borrowing may not be suitable for everyone.
Citigroup Inc. and its affiliates do not provide tax or legal advice. To the extent that this material or any attachment concerns tax matters, it is not intended to be used and cannot be used by a taxpayer for the purpose of avoiding penalties that may be imposed by law. Any such taxpayer should seek advice based on the taxpayer's particular circumstances from an independent tax advisor.
© Citigroup Inc. Citi Personal Wealth Management is a business of Citigroup Inc., which offers investment products through Citigroup Global Markets Inc. (CGMI), member SIPC. Insurance products are offered through Citigroup Life Agency LLC (CLA). In California, CLA does business as Citigroup Life Insurance Agency, LLC (license number 0G56746). CGMI, CLA and Citibank, N.A. are affiliated companies under the common control of Citigroup Inc. Citi, Citi and Arc Design and other marks used herein are service marks of Citigroup Inc. or its affiliates, used and registered throughout the world. 3/17