Elder Care: Good Planning Can Make All the Difference
Citi Personal Wealth Management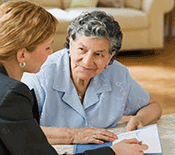 If a parent or spouse needs help for a few weeks while, say, recovering from surgery, many of us will likely find some way to muddle through. Instead, the big decisions—and the hefty expenses—occur when a family member suffers a permanent deterioration in physical or mental health. Elder care planning can make all the difference—and that means taking steps before a crisis hits.
Looking Ahead
Whether you are thinking about care for yourself, your spouse or your parents, this is a good time to find out what everybody's wishes are—and where things stand financially, including:
Looking into long-term care insurance. The premiums will be more affordable if you buy insurance well before you need it and if you choose a policy with a fairly long "elimination period." The elimination period is the time between being deemed eligible for benefits and the benefits actually beginning. Keep in mind a longer elimination period means you'll have to cover the initial months of long-term care out of your own pocket.
Asking your parents about their finances. If they have long-term care coverage, find out what it covers and the length of the elimination period. Ask about their investment accounts and their home's value. Find out how much income they receive from Social Security, pension plans, annuities and income-generating investments. If your parents would struggle to pay long-term care costs, you might look into Medicaid planning. Consider meeting with an attorney who specializes in elder law to advise you on qualifying for Medicaid.
Thinking through logistics. This is a good time to find out how much time, energy and financial support each family member can contribute. Also talk to others who have gone through this before, getting recommendations for assisted-living facilities, nursing homes and local in-home health agencies. Find out what meal delivery and transportation options are available. Check out local care facilities. Talk to the administrator, staff and, if possible, some of the residents. See whether the kitchen, bedrooms and hallways are clean. Make sure the facility has a current license.
Arranging Care
Once a family member needs ongoing, long-term assistance, whether at home or in a facility, here's a checklist of steps to consider taking:
Talk to your parents or spouse, if possible, about their wishes. Remember, the goal is to help elderly family members maintain as much control over their lives as feasible, not take it away.
Consider hiring a professional care manager. You can get a list of local managers from the Aging Life Care Association, an association of health-care professionals who oversee long-term care arrangements.
Gather key information. Start with the family member's date of birth and Social Security number, which you'll need when applying for many services. Get the names, addresses and phone numbers of all medical providers, including the family member's doctors, dentist and drug store. Check on eligibility for Medicare and Medicaid, and make sure the person is enrolled properly. You will also need copies of health-insurance policies and insurance cards, including Medicare cards.
Make a list of all medications, including prescription drugs, over-the-counter products and daily vitamins. Make sure the doctors and pharmacist have a copy of the list, including dosages, to help avoid dangerous prescription-drug interactions. It's also helpful to have dates and results of recent medical tests and exams.
Organize Phone Numbers, Documents, Keys. Distribute a list of key phone numbers, including those for family members and doctors, to everyone on the care-giving team. Family members should know how to locate legal, financial and medical documents like durable powers of attorney, living wills and health-insurance policies. Find out who, if anybody, has been named to take care of financial matters and make health-care decisions in case of temporary or permanent disability. If the family member lives at home, at least a few of you should have keys to the house in case of an emergency.
This Communication is prepared by Citi Private Bank (CPB), a business of Citigroup, Citi). Not all products and services are provided by all affiliates or are available at all locations. CPB personnel are not research analysts, and the information in this Communication is not intended to constitute research, as that term is defined by applicable regulations.

to footnote reference 1

, which provides its clients access to a broad array of products and services available throughout Citigroup, its bank and non-bank affiliates worldwide (collectively,
The information provided here is for informational purposes only. It is not an offer to buy or sell any of the securities, insurance products, investments, or other products named.
Citigroup Inc. and its affiliates do not provide tax or legal advice. To the extent that this material or any attachment concerns tax matters, it is not intended to be used and cannot be used by a taxpayer for the purpose of avoiding penalties that may be imposed by law. Any such taxpayer should seek advice based on the taxpayer's particular circumstances from an independent tax advisor.
There is no guarantee that these strategies will succeed. The strategies do not necessarily represent the experience of other clients, nor do they indicate future performance. Investment results may vary. Individual clients should review with their Financial Advisors the terms and conditions and risks involved with specific products or services.
References to third-party websites should not be construed as an endorsement by Citi Personal Wealth Management (CPWM). Although we believe the sites to be reliable, neither CPWM nor any of its affiliates represents or guarantees that they are accurate or complete, and they should not be relied upon as such. Please note that by accessing the URL or hyperlink above you will leave this site and enter another website created, operated and maintained by a different entity.
Since long-term care insurance is medically underwritten, you should not cancel your current policy until your new policy is in force. A change to your current policy may incur charges, fees and costs. A new policy may require a medical exam. Your actual premiums may vary from any initial quotation you receive. Surrender charges may be imposed, and the period of time for which the surrender charges apply may increase with a new policy. You should consult with your own tax advisors regarding your potential tax liability on surrenders.
© Citigroup Inc. Citi Personal Wealth Management is a business of Citigroup Inc., which offers investment products through Citigroup Global Markets Inc. (CGMI), member SIPC . Insurance products offered through Citigroup Life Agency LLC (CLA). In California, CLA does business as Citigroup Life Insurance Agency, LLC (license number 0G56746). Citibank, N.A., CGMI and CLA are affiliated companies under the common control of Citigroup Inc. Citi, Citi and Arc Design and other marks used herein are service marks of Citigroup Inc. or its affiliates, used and registered throughout the world. 3/17