How to Survive Divorce With Your Financial Future Intact
Citi Personal Wealth Management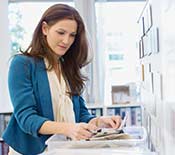 If you're headed for divorce, you likely have some sense of the bruising involved, both financially and otherwise. Here are some suggestions on how to limit the damage.
Taking precautions
Prepare for divorce by making copies of key documents, including pay stubs, five years of tax returns, recent financial account statements, life insurance policies and loan agreements. Also consider making a list of household valuables and maybe even photographing them. This will help ensure everything is accounted for—and nothing mysteriously disappears.
Next, you might move to disentangle your ongoing finances. You will want to get separate bank accounts and credit cards, while also cancelling all joint credit cards. That way, you can start to establish your own credit history, and you won't be responsible if your spouse goes on a spending spree or fails to pay the card bills. In addition, as you negotiate the divorce, make sure the mortgage, utilities and other bills get paid on time, so you don't damage your credit score.
Negotiating a divorce settlement
Even as you take initial steps to protect yourself, you probably want to find a lawyer. Before making a choice, try to interview three or four, asking about their experience, their fees, whether they prefer to negotiate or litigate and whether they have a good working relationship with your spouse's attorney.
It is, of course, tempting to pick an aggressive lawyer with a taste for courtroom battles. But if you eschew negotiations and instead fight it out in court, your divorce will probably be vastly more expensive. Similarly, if you leave your lawyers to organize all the paperwork and negotiate every detail, you will likely drive up your legal bills.
The larger the tab, the less money you will have with which to build your new life. To save on legal costs, you might even ask your spouse whether he or she would agree to use a mediator or try a collaborative divorce.
Maintaining a reservoir of goodwill with your spouse is especially important if you have children who still live at home. All kinds of issues will come up in the years ahead, including settling on after-school activities, dealing with bad report cards and asking your ex-spouse to look after the kids when you need to take business trips or stay late at the office. This sort of stuff will be far easier if you avoid a lot of bad blood during the divorce.
Dividing assets
In most states, you can keep assets you had prior to the marriage, as well as inheritances and gifts received during the marriage. What about other assets?
In community property states, the wealth amassed during the marriage is typically considered community property and is divided equally. In most other states, which are sometimes referred to as common law states, judges can divvy up assets as they see fit, with the goal of achieving an equitable distribution. That equitable distribution may differ from an even split.
Keep in mind that not all assets are equal. Suppose that, in the divorce, you're given a choice between $100,000 in a conventional Individual Retirement Account, $100,000 in stock held in a taxable account and $100,000 in cash. Drawing down the IRA could generate income taxes and selling the stock might trigger capital-gains taxes, so neither asset would leave you with the full $100,000. By contrast, $100,000 in cash is really worth $100,000. In addition, tapping retirement accounts before age 59½ would likely trigger not only income taxes, but also tax penalties.
As you negotiate a property settlement, you might be tempted to ask for the family residence. But this can be a mistake, because you could be locking up a lot of your wealth in an illiquid asset. Moreover, you may struggle to afford the property's ongoing costs, including utilities, maintenance costs, property taxes and homeowner's insurance.
If you decide to sell the family home, it may be best to sell while you are still technically married. If married, a couple can avoid taxes on up to $500,000 in home-price appreciation. If single, the sum is just $250,000.
This Communication is prepared by Citi Private Bank (CPB), a business of Citigroup, Citi). Not all products and services are provided by all affiliates or are available at all locations. CPB personnel are not research analysts, and the information in this Communication is not intended to constitute research, as that term is defined by applicable regulations.

to footnote reference 1

, which provides its clients access to a broad array of products and services available throughout Citigroup, its bank and non-bank affiliates worldwide (collectively,
The information provided here is solely for informational purposes. It is not an offer to buy or sell any of the securities, insurance products, investments, or other products/services mentioned.
Citigroup Inc. and its affiliates do not provide tax or legal advice. To the extent that this material or any attachment concerns tax matters, it is not intended to be used and cannot be used by a taxpayer for the purpose of avoiding penalties that may be imposed by law. Any such taxpayer should seek advice based on the taxpayer's particular circumstances from an independent tax advisor.
These strategies do not necessarily represent the experience of other clients, nor do they indicate future performance or success. Investment results may vary. The strategies presented are not appropriate for every individual.
© Citigroup Inc. Citi Personal Wealth Management is a business of Citigroup Inc., which offers investment products through Citigroup Global Markets Inc. (CGMI), member SIPC . Insurance products are offered through Citigroup Life Agency LLC (CLA). In California, CLA does business as Citigroup Life Insurance Agency, LLC (license number 0G56746). CGMI, CLA and Citibank, N.A. are affiliated companies under the common control of Citigroup Inc. Citi, Citi and Arc Design and other marks used herein are service marks of Citigroup Inc. or its affiliates, used and registered throughout the world. 3/17