7 Ways You Might Boost Retirement Income and Maximize Savings
Citi Personal Wealth Management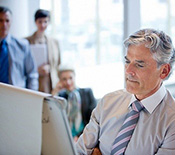 The notion of a safe retirement portfolio withdrawal rate has been analyzed extensively by academics and financial advisors, and many have come up with answers of around 3% to 4%. This figure, which includes any dividends and interest you receive, represents the percentage of a portfolio's value that these academics believe you can safely withdraw in the first year of retirement.
If you withdraw significantly more than 4%, you could increase the risk of running out of money later in retirement. But if you need more income, consider the following seven ways to try to boost your income and maximize savings.
1. Act Your Tax Bracket
When you're working, if you're in the 28% or higher federal income-tax bracket, holding tax-free investments may make sense. Yes, taxable investments might offer higher yields, but once you factor in the taxes involved, taxable investments could leave you with less money in your pocket.
Once you are retired, that may no longer be true. Would taxable investments give you more after-tax retirement income than tax-free investments? Maybe it's time to run the numbers to see.
2. Smooth Your Income
Once retired, you will likely have more control over your annual taxable income. You may have a pension, Social Security retirement benefits, and the dividends and interest generated by your taxable-account investments. You will also need to take required minimum distributions from your retirement accounts after you turn age 70½, to avoid tax penalties.
But that may still leave you with a fair amount of financial flexibility, and you might want to discuss your situation with a tax professional. For instance, in years when your taxable retirement income is relatively low, you could seize the opportunity to realize capital gains or consider converting part of your Individual Retirement Account to a Roth IRA. This may allow you to pay taxes at a lower rate today—and avoid bigger anticipated tax bills down the road.
3. Spread It Around
A diversified retirement won't stop you from losing money or guarantee a profit. It could, however, help you earn potentially higher returns for a given level of risk.
This is the reason investors are often encouraged to own a broad mix of larger U.S. stocks, smaller U.S. companies and foreign shares. Don't, however, focus solely on your stock portfolio. You may want to take a high-quality bond portfolio and diversify it by adding riskier types of bonds, including high-yield junk bonds, developed-market bonds and emerging-market debt.
4. Cut Costs
You could also potentially increase income by favoring lower-cost retirement investments or asking your financial advisor to do so on your behalf. For example, that might mean favoring mutual funds with lower annual expenses and paying careful attention to the mark-up on individual bonds. Keep in mind that lower expenses does not guarantee that an investment will generate income.
5. Buy Lifetime Income
It's risky to use a retirement withdrawal rate higher than 3% to 4% because of the danger that you might outlive your savings. But what if you could eliminate or reduce that longevity risk? Therein lies the appeal of immediate-fixed annuities that pay lifetime income. With these annuities, you hand over a lump sum of money to an insurance company in return for a check every month for the rest of your life. Bear in mind that guarantees, including interest rates and subsequent payouts, are based on the claims-paying ability of the issuing insurance company.
An income annuity may pay you more than 4%. The older you are when you purchase an annuity, and the higher the prevailing level of interest rates, the more income you may receive. But that income comes with a big risk: If you die at a relatively young age, you will have received relatively little income in return for your big annuity contribution, but you can set up an annuity to pass on income to beneficiaries.
6. Wait a While
You could also increase your retirement income by waiting a little longer to claim your Social Security retirement benefit. Indeed, you can think of Social Security as similar to a lifetime-income annuity, but with the added advantage that Social Security benefits currently rise periodically along with inflation.
You can claim Social Security as early as age 62 and as late as age 70. Delaying can boost your monthly benefit. But as with the annuity, that increased Social Security benefit comes with risk: If you die early in retirement, you may have missed years of Social Security checks and received little or nothing in return.
7. Get a Job
If you put off retirement by a few years, you will have additional years to save and to earn investment gains. In addition, because you will be older when you retire, you will receive more income when you claim Social Security or buy an income annuity. Also, consider the benefits of working part-time in retirement. That will give you additional income—and maybe also the sense of purpose that many retirees hunger for.
This Communication is prepared by Citi Private Bank (CPB), a business of Citigroup, Citi). Not all products and services are provided by all affiliates or are available at all locations. CPB personnel are not research analysts, and the information in this Communication is not intended to constitute research, as that term is defined by applicable regulations.

to footnote reference 1

, which provides its clients access to a broad array of products and services available throughout Citigroup, its bank and non-bank affiliates worldwide (collectively,
This material is derived from sources believed to be reliable, but its accuracy and the opinions based thereon are not guaranteed.
The information provided here is for informational purposes only. It is not an offer to buy or sell any of the securities, insurance products, investments, or other products named.
Citigroup Inc. and its affiliates do not provide tax or legal advice. To the extent that this material or any attachment concerns tax matters, it is not intended to be used and cannot be used by a taxpayer for the purpose of avoiding penalties that may be imposed by law. Any such taxpayer should seek advice based on the taxpayer's particular circumstances from an independent tax advisor.
Remember, when investing in mutual funds and annuities, please consider the investment objectives, risks, charges, and expenses associated with the funds and separate accounts of the annuity carefully before investing. You may obtain the appropriate funds prospectus by contacting a Financial Advisor. The prospectus contains this and other information, which should be carefully read before investing.
The value of the variable investment options will fluctuate and when redeemed the investment options may be worth more or less than original cost.
Diversification and asset allocation do not protect against loss or guarantee a profit. Past performance is not a guarantee of future results.
International investing may not be suitable for every investor. There may be additional risk associated with international investing including currency fluctuations, as well as foreign, economic, and political risk.
Bonds are affected by a number of risks, including fluctuations in interest rates, credit risk and prepayment risk. In general, as prevailing interest rates rise, fixed income securities prices will fall. Bonds face credit risk if a decline in an issuer's credit rating, or creditworthiness, causes a bond's price to decline. High yield bonds are subject to additional risks such as increased risk of default and greater volatility because of the lower credit quality of the issues. Finally, bonds can be subject to prepayment risk. When interest rates fall, an issuer may choose to borrow money at a lower interest rate, while paying off its previously issued bonds. As a consequence, underlying bonds will lose the interest payments from the investment and will be forced to reinvest in a market where prevailing interest rates are lower than when the initial investment was made. Depending on your state of residency, some bonds may be exempt from state and local taxes; however, interest may be subject to the federal Alternative Minimum Tax.
There is no guarantee that these strategies will succeed. This information is intended to illustrate products and services available through Citigroup Global Markets Inc. The strategies do not necessarily represent the experience of other clients, nor do they indicate future performance. Investment results may vary. The investment strategies presented are not appropriate for every investor. Individual clients should review with their Financial Advisors the terms and conditions and risks involved with specific products or services.
© Citigroup Inc. Citi Personal Wealth Management is a business of Citigroup Inc., which offers investment products through Citigroup Global Markets Inc. (CGMI), member SIPC. Insurance products offered through Citigroup Life Agency LLC (CLA). In California, CLA does business as Citigroup Life Insurance Agency, LLC (license number 0G56746). CGMI, CLA and Citibank, N.A. are affiliated companies under the common control of Citigroup Inc. Citi, Citi and Arc Design and other marks used herein are service marks of Citigroup Inc. or its affiliates, used and registered throughout the world. 3/17