6 Ways to Find the Extra Cash in Your Holiday Budget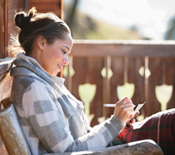 Between gifts, entertaining, and travel, the holiday season can be a time when many of us are looking for ways to stretch our already-spoken-for budget. So how do you responsibly find the funds to deck the halls without feeling too much like a Grinch? Take the following tips to heart to maximize the festivities—not the guilt.
Review how you've spent your money.

By late fall, it's usually a good idea to revisit your budget. Many bank apps and websites can usually provide an accurate view of your spending habits with little time wasted. You can probably spot where there's room for improvement, like ordering lots of takeout or racking up late fees on monthly bills. Check for any opportunities to do better, and then stick to a plan that avoids repeating those behaviors.

Trim big expenses first.

Clipping coupons and shopping sales can likely save you some extra cash, but your biggest opportunity to bulk up a holiday budget fund will come from finding ways to trim the largest parts of your budget. Can you bring your lunch to work for a couple of months instead of ordering in? Hold off on buying new clothes for a while? Looking for savings where it counts will save you time and give you confidence that you're making progress towards your goals in your budget planning.

Be realistic about cutbacks.

With the holidays coming up, it may be tempting to want to slash your budget so you have enough for gifts and travel. But if you're too aggressive with your cuts, you run the risk of wiping out any cushion for essentials like housing, utilities and food. Start slowly—see if you can reduce non-essential spending by just 5-10% and sock that money away.

Create a holiday spending plan.

Once you've identified extra cash that can be freed up, don't let it sit without a purpose! Have a plan in place for every dime of it, so you can commit to spending it right. And once you've decided where the money will go, resist the urge to spend it on something else.

Use perks to stretch your dollar.

Sometimes, even after all the finagling and number crunching, money will still be tight. But before you start to sacrifice the holiday you've planned, see how creative you can get by turning perks into payoffs. Unused airline miles for travel or small amounts on forgotten-about gift cards can be used for last-minute gifts or to trim costs.

Budget through the New Year.

Don't assume that January 1 is the last day to save. Establishing a sound budget in the first part of the year can only help you get ahead and set good spending habits. Budgeting for after-holiday sales is also a great idea, since you can usually snag deep discounts on gifts for next year.
This Communication is prepared by Citi Private Bank (CPB), a business of Citigroup, Citi). Not all products and services are provided by all affiliates or are available at all locations. CPB personnel are not research analysts, and the information in this Communication is not intended to constitute research, as that term is defined by applicable regulations.

to footnote reference 1

, which provides its clients access to a broad array of products and services available throughout Citigroup, its bank and non-bank affiliates worldwide (collectively,
The information provided here is for informational purposes only. It is not an offer to buy or sell any of the securities, insurance products, investments, or other products/services mentioned.
Citigroup Inc. and its affiliates do not provide tax or legal advice. To the extent that this material or any attachment concerns tax matters, it is not intended to be used and cannot be used by a taxpayer for the purpose of avoiding penalties that may be imposed by law. Any such taxpayer should seek advice based on the taxpayer's particular circumstances from an independent tax advisor.
These strategies do not necessarily represent the experience of other clients, nor do they indicate future performance or success. Results may vary. The strategies presented are not appropriate for every individual.
© 2015 Citigroup Inc. Citi Personal Wealth Management is a business of Citigroup Inc., which offers investment products through Citigroup Global Markets Inc. (CGMI), member SIPC. Insurance products are offered through Citigroup Life Agency LLC (CLA). In California, CLA does business as Citigroup Life Insurance Agency, LLC (license number 0G56746). CGMI, CLA and Citibank, N.A. are affiliated companies under the common control of Citigroup Inc. Citi and Citi with Arc Design are registered service marks of Citigroup Inc. or its affiliates. 10/15