How to Save on Five-Star Holiday Travel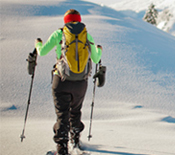 This year you've decided to do it: Instead of turkey, you're thinking Turkey—or Hawaii or Vail. You're not alone—lots of people make their holidays even more memorable by taking a luxurious trip to a faraway destination.
But just because you plan to vacation at a high-end destination doesn't mean you can't still be on the lookout for great holiday travel deals. Following are some ways you can get the most from luxury travel this holiday season.
Use alerts.

Websites like AirfareWatchDog allow you to register your luxury travel vacation. It will then send you an alert whenever a low airfare to your destination becomes available.

Get the package deal.

When it comes to international and luxury travel, it often pays to book your flight, hotel, and even car accommodations together. Sites like Expedia package the deals for you and can offer significant savings on the cost of your trip.

Explore flash sale websites.

Flash sale websites such as Jetsetter and TravelZoo specialize in short-term deals (usually only offered for 24-36 hours) that are heavily discounted. Consider following them on social media, where last-minute deals are often announced.

Know when to go.

Though bargains can be found year-round, some are better than others. For instance, it will almost always be cheaper to book a hotel in the middle of the week than on the weekend. You can often save money on holiday travel airfare by traveling on the holiday itself, instead of the day before or after. Also consider the shoulder season—the time between high and low season—when hotel prices will have dropped and crowds will have thinned out.

Choose your credit card wisely.

Some credit cards can offer great travel protection. Depending on your card's travel benefits, some credit card companies will intercede on your behalf if there's a problem with a merchant—. And when you return from your trip, you'll have a record of where you went and how much you paid. Plus, some credit cards allow you to earn points towards free or discounted hotel accommodations.

Think about going all-inclusive.

Is there anything more relaxing than heading into a vacation knowing that every aspect of your luxury travel has been taken care of? All-inclusive resorts can offer that peace of mind, and they've only improved over the years. Now, depending on where you're staying, they may include spa treatments, butlers or even dedicated chefs.
This Communication is prepared by Citi Private Bank (CPB), a business of Citigroup, Citi). Not all products and services are provided by all affiliates or are available at all locations. CPB personnel are not research analysts, and the information in this Communication is not intended to constitute research, as that term is defined by applicable regulations.

to footnote reference 1

, which provides its clients access to a broad array of products and services available throughout Citigroup, its bank and non-bank affiliates worldwide (collectively,
The information provided here is for informational purposes only. It is not an offer to buy or sell any of the securities, insurance products, investments, or other products/services mentioned.
Please note that by visiting the URLs or hyperlinks referenced in this piece you will enter another website created, operated and maintained by a different entity.
These strategies do not necessarily represent the experience of other clients, nor do they indicate future performance or success. Results may vary. The strategies presented are not appropriate for every individual.
© 2015 Citigroup Inc. Citi Personal Wealth Management is a business of Citigroup Inc., which offers investment products through Citigroup Global Markets Inc. (CGMI), member SIPC. Insurance products are offered through Citigroup Life Agency LLC (CLA). In California, CLA does business as Citigroup Life Insurance Agency, LLC (license number 0G56746). CGMI, CLA and Citibank, N.A. are affiliated companies under the common control of Citigroup Inc. Citi and Citi with Arc Design are registered service marks of Citigroup Inc. or its affiliates. 10/15