Different can be better

Put your money to work in more CDs for even greater savings potential.

CD Laddering is a strategy that may help you earn more. By spreading your savings across multiple CDs with varying maturities, rather than one short-term CD, you may be able to earn a better rate and still have annual access to a portion of your funds.

Right for you if:

You want more saving options
You need greater access to your savings
You are looking for increased savings potential
How CD Laddering Works
Evenly split your investment into several FDIC-insured CDs with different maturity lengths.
Example: Build a CD Ladder with $12,500
1. Invest $2,500 in five CDs with a range of rates and maturity lengths. Each year of maturity is a step on the ladder.
2. When the 1-year CD matures, contact us to reinvest that money in a new 5 year CD. By this time your original 5-year CD has only 4 years left until it matures.
3. At the end of five years, you'll have five 5-year CDs on your ladder. One of those 5-year CDs will mature each year, giving you access to money that's been growing at the rates paid on 5 Year CDs.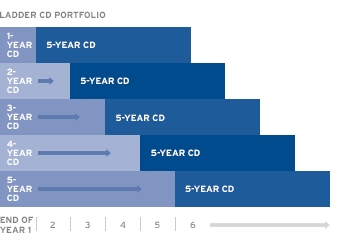 Estimate Your Savings with our CD Calculator
CD Laddering FAQs