Your personal connection to a premium relationship
Citigold clients can enjoy priority service, preferred pricing, and access to a wide range of resources and guidance to manage their finances. With a Citigold Relationship Manager, you can experience simplified banking through personalized guidance, regular updates and attention to what's important to you.
A Citigold Relationship Manager will be dedicated to proactively assisting you with your finances — from everyday transactions to more complex financial needs. They are well-versed in the latest products, services and resources available at Citi®. Whether meeting your needs directly or working together with a Citi Personal Wealth Management Financial Advisor, a Citigold Relationship Manager can help make managing your finances easier.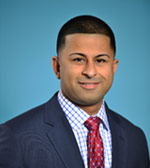 Ashish Baria
Citigold Relationship Manager
Phone:
1-212-423-0867
Email:
Address:
1275 Madison Avenue
New York, NY 10128
PROFILE:
Working as a Citigold Relationship Manager, I strive to establish strong relationships with my clients by providing exceptional, personalized service.
I joined Citi in March 2014 with nearly a decade of prior financial services experience. With a strong background in many areas of banking and finance, I am able to provide access to a broad range of services and attention based on clients' ever-changing financial needs. Throughout my career, I have successfully gained the trust of my clients by focusing on developing long-term relationships. My goal with each interaction is to exceed expectations and help clients plan for their goals.
I am fluent in Hindi and Guajarati. I was born in Mumbai, India, and spent my formative years in Scottsdale, Arizona. I graduated from Arizona State University with a B.S. in Business Management and have called New York City my home since 2010. To balance my professional life, I enjoy traveling and experiencing new cultures and cuisines. I also stay active by playing basketball and biking through various parks and neighborhoods in the city.