Citi® Financial Tools.

Financial management tools help put you in control.

Gaining greater control over your financial life may not be as difficult as you think. In fact, with the help of Citi® Financial Tools, managing your finances has never been easier.

Right for you if:

You want to track & manage your finances
You need to analyze your finances & get reports
You'd like to create personal budgets
Call us at 1-800-374-9700 Text Telephone (TTY) 1-800-788-0002
What You Get
Citi® Financial Tools include:
Expense Analysis
Spending your money more wisely tomorrow depends on knowing how you're spending it today. This tool helps you examine your finances, so you can see precisely where your money is going and implement a plan for meeting future financial goals.
Monthly Budget
Need to cut down on spending? This tool helps create monthly budgets and allows you to set up email budget alerts using real-time info from your accounts.
Money Tracker
This tool helps with budgeting by showing you a clearer picture of your cash flow (expenses and income). By better tracking your money, you'll easily see where you can add savings and improve the overall management of your finances.
Other Tools include:
Transactions
Goal Tracker
Net Worth
Portfolio Manager
Financial Calendar
Bill Reminder
How It Works
Citi® Financial Tools will gather all your information. Then, get ready to view your financial life, for free. From expense analysis to customizable budgets, transactions to investments—you'll have all the information you need to gain greater control and plan for the future in one place.

Citi® Financial Tools also:
Works with your Citi and non-Citi accounts
Automatically include information from your Citibank and Citi Credit Card accounts
Shows your spending trends from all of your accounts
Start with 6 months of transaction history from your accounts
Categorize your spending into useful, customizable categories
Analyze your finances and provide detailed spending reports
Allow you to create and track financial budgets and goals
Provide an analysis of your net worth and investments
Works With These Products
Learn How to Use It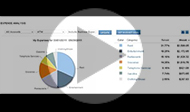 View the Citi® Financial Tools Tutorial