Citi ThankYou® Rewards
A World of Rewards
It's easy to earn ThankYou® Points through your banking and credit card accounts. Redeem your points for the rewards you really want, even faster, when you combine your ThankYou Points into one ThankYou Member account.
Earn ThankYou Points from your
Banking Relationship

Earning ThankYou Points for qualifying products and services linked to your eligible checking accountFootnote 1 is easy:
Earn points using your Citi
ThankYou Card.

Make every purchase more rewarding. With the Citi ThankYou® Preferred Card, Citi Premier℠ service mark Card and Citi Prestige® Card you can earn points quickly so you can redeem for the rewards that mean the most to you.
The points you earn with your Citi ThankYou Card will not expire and there is no cap on the points you can earn.
Learn more about the benefits of Citi ThankYou Cards and apply today to start earning points.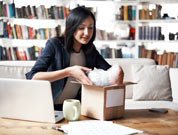 Redeem your ThankYou Points for just about anything.
Easily redeem your ThankYou Points online for gift cards from your favorite retailers, travel rewards, cash rewards, and much more.
Online Bill Pay With Points lets you use the ThankYou® Points you've already earned toward your bill payments. Thank You Points cannot be used for bill payments toward any accounts with Citibank or a Citibank affiliate or for express or recurring payments.